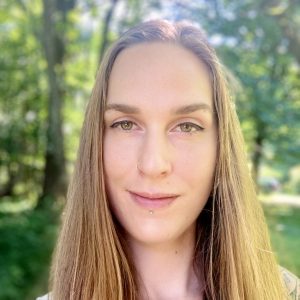 Amber Moon
Amber received her RYT 200hr with The Kula Collective after years of cultivating a connection with Yoga, both on and off the mat. Seeking relief from her own suffering from many years of back pain and stress led her to begin this journey to assist in relieving the suffering of others through Yoga. She enjoys practicing and sharing Vinyasa, Gentle Yoga, Pranayama and Meditation though her greatest passion is Yin.
Amber was led to the path of healing through her unique life journey and graduated from the Florida College of Natural Health in 2012 with an A.S. Degree in Natural Health and a certificate in Advanced Therapeutic Massage. The path beckoned her deeper to become a certified Reiki Master. She developed a keen interest and natural ability with her first introduction to Cranial Sacral Therapy and went on to attend the Upledger Institute, which is now the main bodywork modality she chooses to practice. Empathically inclined, she became aware of the impact of stored emotions upon the body and works with clients deeply on the emotional level.
Off of the mat and massage table, Amber is a professional intuitive reader of 11 years. She shares her classes and sessions from an intuitive space and weaves together everything she has cultivated upon her journey with healing the mind body and spirit to provide a deeply supportive relaxing and transformative experience.
Amber has a deep love for nature and animals. In her spare time she can be found creating crystal healing jewelry and herbal medicines, reading, gardening, sharing ceremony and immersing in the beauty of the natural world and the eternal realm of Spirit. She is dedicated to the Dharma and forever a humble student upon the Journey.