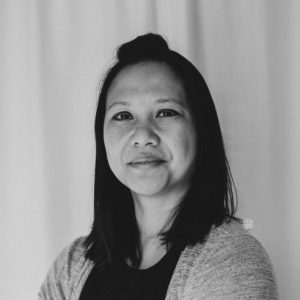 Kristine Santos Preiser L.Ac., RYT
Like water, yoga feeds and nourishes Kristine daily. She has been practicing for 19 years and is amazed at how the practice deepens and challenges her both on and off the mat. Kristine has been a professional acupuncturist and yoga instructor for many years and loves to unite the two practices to bring students and patients to a deep level of self-awareness. In Kristine's experience yoga is about practice, self inquiry and connection to community. She is passionate about creating and holding a safe space for individuals to quiet their inner experience, move their body in specific ways that provide freedom and internal space, and inviting people to let go of painful mental and fascial holding patterns.
Kristine started her yoga teacher training journey in 2006 and has been practicing and learning ever since. She holds a 200-hr CorePower Level 1 certification, a Dao Flow for Women's Health Practitioner certification and is in the process of finishing her 300-hr advanced training certification from Asheville Yoga Center. She teaches a blend of yoga from her nineteen years of practice which includes Hatha, Ashtanga, CorePower (hot power vinyasa), Restorative, Alignment-Based Yoga, Dao Flow Women's Yoga and Kundalini. Her most recent retreats have been focused on Bhakti Yoga and meditation. Her future plans include Kauit Teacher Training and Somatic Experiencing Training with the intention of more fully and effectively meeting her clients in their healing process.