Massage offers so many benefits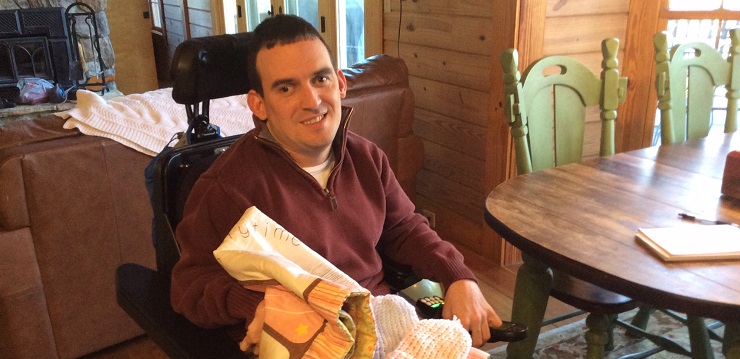 Nick Ball is game for almost anything.
An avid sports fan (Go Duke and Rolltide!) and computer whiz who was born with cerebral palsy, this 33-year-old has had to step out of his comfort zone his entire life while confined to a wheelchair.
"I try not to let my disability stop me from doing things," says Nick, who volunteers at least 25 hours week at some of the county's elementary school libraries.
For Nick, receiving a YAM massage was yet another challenge, but owner and massage therapist Averee Refshauge made him feel so comfortable that he's been coming since the studio opened more than a year ago.
His body and mind are enjoying the benefits of massage. "I can breathe a whole lot better. My posture is a whole lot better. My shoulders are not drawn up where I'm slouching over," Nick says.
Nick found out about YAM from his mother, Theresa Ball, who visited the studio to inquire about Yoga classes when it first opened. That same day, she ended up scheduling a massage appointment for Nick with Averee.
"With Nick being in a wheelchair, his body is stagnant. His body was becoming stiffer and stiffer. We tried physical therapy, but many people were afraid to work on him," Theresa says. "Averee and I talked for a good while, and she was very excited to help Nick."
Averee says Nick has been a pure joy to work with. His upbeat and friendly demeanor is contagious, and she's so glad he's part of the YAM family.
"I've learned so much from Nick in terms of reading people's comfort levels. Everyone, from babies to the elderly, can truly benefit from the human touch. He's truly an inspiration to me," Averee says.
Nick inspires others, as well, from the students and librarians he helps at school to the soccer players he helped manage at North Henderson High where he graduated. Nick moved from West Virginia with his family when Nick was entering his senior year, a hard time for any teenager. But Nick says the teachers and students were great welcoming him into the community. Over 10 years later, Nick and his dad, A.J., still cheer on North's athletes, attending ball games whenever they can.
Nick and his family travel a lot, and enjoy cruises. A highlight for Nick on one trip was swimming with the dolphins in Cozumel. Alaska was another great trip with his grandmother, who he was very close with.
She recently passed away, but he carries on her legacy. She was a great seamstress, and taught Nick how to quilt. He holds dear several quilts they made together. One he's giving to a good friend from high school who just had a baby.
Nick is also donating scarves and hats he's knitted to various charities. His cousin Betsy taught him how to knit.
"Helping others puts me in a different frame of mind. I will not let anything stop me," Nick says. "YAM has been great … everyone is so welcoming."